Skip to Main Content
It looks like you're using Internet Explorer 11 or older. This website works best with modern browsers such as the latest versions of Chrome, Firefox, Safari, and Edge. If you continue with this browser, you may see unexpected results.
Al Omari Mosque, formerly the Crusader Cathedral of St. John built in the 12th century, was transformed into a mosque by the Mamluks in 1291. It was damaged during the Lebanese Civil War and later refurbished in 2004.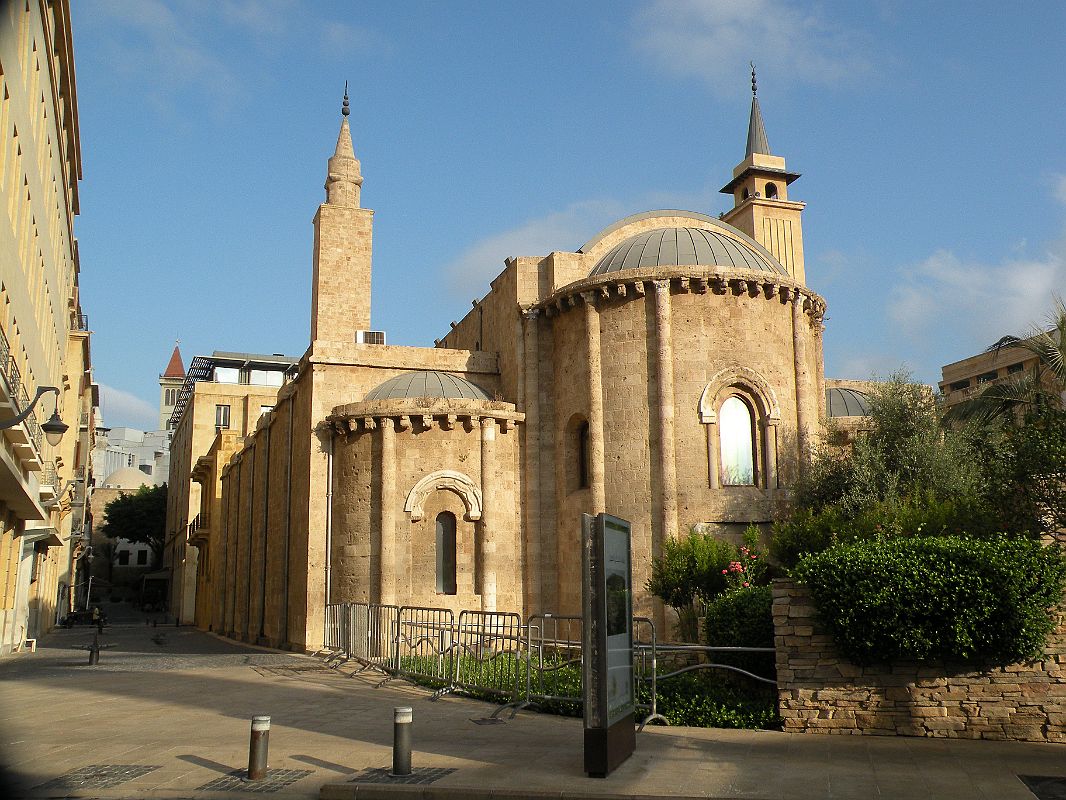 Source: http://www.mountainsoftravelphotos.com/Lebanon/Beirut%20Downtown/slides/Beirut%2038%20Al%20Omari%20Mosque.html
Located in Down Town Beirut, the building that once served as dorms is classified as a historical one belonging to the Lebanese heritage. The project of changing it into a Boutique Hotel was stopped in 2016.
Source: https://www.stagersplus.com/bachoura-8289
Beirut Municipality Building or Beirut City Hall, located on Weygand and Foch Streets, was built in neo-Mamluk style by Youssef Aftimus in 1924. The building features a yellow limestone façade and combines a mixture of Venetian and Arabesque architectural styles. The building was restored after the Lebanese Civil War and currently houses the Governor of Beirut's office.
Source: https://en.wikipedia.org/wiki/Beirut_City_Hall#/media/File:Beirut_city_hall.jpg
This mosque was built in 1597 by Emir Mansur Assaf during the Ottomans rule on the former Serail Square that hosted Emir Fakhreddine's Palace. Post-war restoration in the mid 1990s led to the renovation of the original western façade of the mosque.
Source: https://upload.wikimedia.org/wikipedia/commons/9/91/Emir_Assaf_Mosque.jpg
Built in the 1600s by Emir Munzer Al-Tannoukhi, this ancient mosque is located in Beirut's Central District. It was restored in 1749 by brothers Emir Melhem and Emir Mansour Haydar Al-Shehab, partly damaged during the Lebanese Civil War, and restored in 2002.
Source: https://static2.touristtube.com/media/thingstodo/Amir-Munzer-Mosque_1436276740.jpg?d=599x280
Built by Ibn 'Iraq Damashki in 1517, this is the only surviving part of the ancient Mamluk zawiya (prayer corner). It was initially a hospice, later used a private madrassa (college of jurisprudence) and a zawiya until late Ottoman times.
Source: http://www.romeartlover.it/Beirut04.jpg
St. George Greek Orthodox Cathedral was built in 1767 over the ruins of the Anastasi Romano-Byzantine Cathedral originally built in the 5th century. St. George Cathedral was torn during the Lebanese Civil War, restorations began in 1998, and the Cathedral reopened in 2003 but it was badly damaged in Beirut's explosion of August 4, 2020.
Source: https://archnet.org/sites/5292